Overview:
Coupons are gained from having previously backed Faeria via its Kickstarter campaign or the website; or from Promotions and Tournaments. They will generally award cosmetics, booster packs of cards, or even the full core set.
To redeem a coupon you must first own a copy of Faeria (please see the redeeming a code article on how to obtain this) and go to the Shop in the game.
The coupon entry box is situated above the 1 Booster Pack option.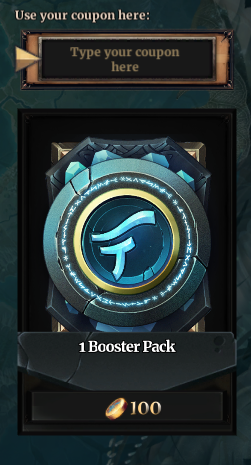 Type the code you have received into the
box
, press [Enter] on your keyboard, and you should see a popup box stating that it was successful.
If you experience any issues during this process then please
contact us
via support@faeria.com; including a
screenshot
of the issue.